Bruges
Delta Works, Neeltje Jans, Bruges
In addition to the tours we do in the Netherlands, we also make trips to the larger cities of Belgium and even Paris is possible.
The 1 day tour to Bruges leaves Amsterdam in the morning and takes us via the Delta Works to our destination Bruges. The Delta Works are the world's best and greatest storm barriers. Find out why these dams are called the "8th world wonder". They were created after the floods of 1953 to protect the land. With the Delta Works, the odds of another flood were reduced to once every 4,000 years.
We arrive in Bruges around lunchtime, after which we take a tour of the city. Bruges is internationally known and loved. This city of Flemish art is among the best of the heritage cities of Europe and the world. In 2000, Unesco even declared it's historic city Centre part of the UNESCO World Heritage.
After the tour you simply stroll through the old streets, visit the chocolate museum or take a beautiful boat trip. At the end of the day we return to Amsterdam. (or continue the trip to Gent, Brussels or Paris, if it is a 2 day/ or more tour)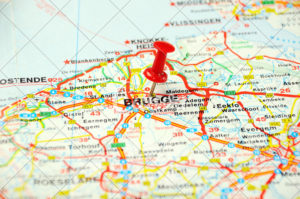 Duration: +/- 12 hours
Includes: driver/guide that speaks English (car/minivan), mileage, parking & tax
Excludes: entrance fees, lunch and drinks (except mineral water in the car)
Price: €720,- Mercedes E-Class or  €840,- Mercedes V-Class minivan